KIRI's Mosquito Repellent Patch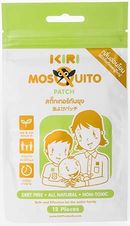 The KIRI Mosquito Repellent Patch is a safe and effective, non-toxic, DEET-free and natural alternative to the many DEET repellent products available here in Thailand. The KIRI patch is Citronella based, an oil extracted from lemongrass used since ancient times and is considered one of the most effective natural essences known for preventing insect bites.
The Patch is FDA registered and suitable for the entire family. Each resealable package contains 12 patches.
Click here to Buy Now!

How to Use The Patch

The KIRI Mosquito Repellent Patch works much like a sticker and does not need to be applied to one's precious skin (although it can be). Unlike repellent sprays and lotions on the market, the Patch was designed to be stuck onto clothing, strollers, bedding and other furniture for whenever you need them, thus avoiding any skin sensitivities (i.e. allergic reactions).

NOTE: Because the KIRI patch emits an essence / scent which makes the wearer invisible to mosquitoes, it is important that this patch be worn on the outside of clothing.

For infants and toddlers, placing the Patch inconspicuously on or on an area not easily reachable helps prevent the child from seeking or taking off the Patch.
KIRI's Mosquito Repellent Spray

Our Repellent Spray is also another alternative to the many synthetic chemical based repellents. Our DEET-free formula uses our own blend of the highest quality of Citronella oil and other essential oils, all of which will not cause harm to humans, pets, or the environment.
The Spray is FDA registered and is 50mL per bottle.

Click here to Buy Now!

How to Use The Spray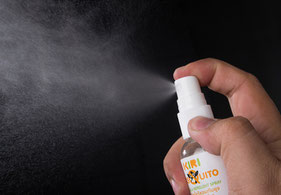 Directions for Use:
Shake, aim, and spray onto desired areas. Reapply generously as needed. May be used day or night. Do not drink or spray in eyes.