KIRI's No-Rinse Hand Sanitizer

With our No-Rinse Hand Sanitizer, you can be comforted by knowing that your child will have clean and smooth hands that continue to stay clean up to 4 hours after application. This safe and effective No-Rinse Hand Sanitizer is non-alcohol based, will not dry your skin, and continues to kill 99.99% of germs up to 4 hours.

How does it continue to be effective for up to 4 hours? Our No-Rinse Hand Sanitizer uses the latest ingredient release technology along with our child-safe proprietary antibacterial foaming formula to leave your hands smooth and germ free for up to 4 hours.

So next time you are out of the house or know that soap and water may not be readily available, pack our hand sanitizer with you. It will put your mind at rest and help prevent our precious little ones from getting sick.

Directions for Use: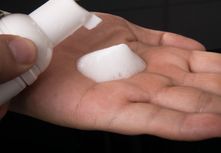 Just depress the foaming applicator one time into the palm of your hand and rub the hand sanitizing foam into your skin.